the perfect guest table centrepiece...
The beautiful ER range is available throughout United Kingdom at just £45 plus £10 each way for delivery and return with Express Next Day Delivery as standard. Ideal for any occasion, Wedding, Birthday, Anniversary, Christening, Bar/Bat Mitzvah or Corporate Events.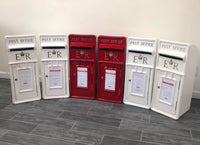 Each large box is lockable and suitable for a wedding with approximately 600 guests with the estimate of safeguarding 300 cards (1 card per 2 guests)

To reserve, simply select your date and colour via our website, a hire form will be sent to you to finalise your personalisations and assist with any individual requests
Reserve your Post box here
choice of many personalised plaques...
Your wedding day is a once in a lifetime experience and naturally you want it to be the best day of your lives. It can be the smallest of details that can make all the difference to your big day, making your day stand out from the crowd, your day being remembered as exquisite, not just the same as everyone else's, even forgettable.
Our customers are the heart of our service, with years of experience in the wedding industry we understand the importance of comprehensive communication and guidance throughout. We work with you to offer an Exclusive and Bespoke service exactly to your specification.
Delivery Throughout United Kingdom
Leeds, Bradford, Manchester, Liverpool, Kent, Birmingham, London, Surrey, Hampshire, Cornwall, Essex, Norfolk, Halifax, Yorkshire, Midlands, Glasgow, Newcastle, Liverpool etc..